Supporting Your Mechanical Business...
From Design... To Build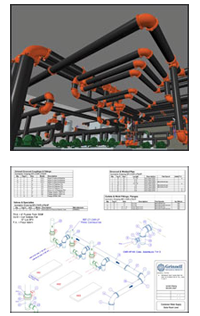 GRINNELL Technical Services, a department of GRINNELL Mechanical Products, works with engineers and contractors to create the most cost-effective and time-efficient piping solutions from design... to build.
High Material Handling Costs
Piping Interferences and Clashes
Material Backorders
Space Constraints
High Installation Costs
Lack of Skilled Labor
Excessive Material Leftovers
Compressed Delivery Schedules
Our Mechanical Design Department provides a strategic extension of your own design team.
Our Project Planning jump-starts your design process, reducing indirect operations at the job site while identifying conflicts between your project documents.
Our Virtual Layout Process helps to identify interferences and space constraints before they become work-delay issues.
Our Building Information Modeling Expertise supports your BIM drafting and coordination. We deliver 3D Modeling in your preferred project format for clash detection.

Our Design Flexibility incorporates the best joining technology available for your specific need by using grooved systems with combinations of welded, flanged, and pressed connections.

Shop Drawings
This service creates easy-to-follow, tagged 3D Isometric Drawings with complete Bill of Material (BOM) tables and fully dimensioned piping plans of your mechanical equipment rooms. We provide pipe cut lengths to minimize field cutting and fitting and to simplify your installations.
Pump Assemblies and Equipment Connections
Our 3D Modeling with tagged BOM tables provides clear, accurate representations of grooved piping hook-ups. Based on equipment submittals and bid drawings (flow diagrams, HVAC details, and plan views), we create detailed assemblies that you can use for submittals, reviews, and assembly instructions.
Cost Comparisons
Using industry-standard, man-hour data estimations and our BOMs, we compare the cost savings of grooved piping solutions over traditional welded/flanged joining methods. By utilizing the benefits of grooved piping, our technical experts recommend ways to save you money.
Crate and Tag Handling
We provide an effective material handling process to help increase your labor productivity by 25% or more. We deliver complete, tagged pump or equipment hook-up BOMs directly to equipment rooms for easy access, eliminating your need to reference multiple shipments and back orders and reducing your material waste and overages.
Thermal Movement Analyses
We assist specifiers and installers on the proper use of grooved couplings for thermal expansion compensation in piping systems. Our in-depth assessments of your systems offer cost-effective design solutions, reduce rework, and help you meet project performance requirements.
CAD Blocks and Families
We offer traditional AutoCAD® blocks, AutoCAD MEP parametric block catalogs, and Revit® families with manageable file sizes, accurate dimensions, and part numbers to save you time and money.
Training
In a state-of-the-art educational facility, our training includes informative classroom lectures on leading industry technologies, hands-on demonstrations of grooved products, and on-site performance testing of product assemblies.
Technical Expertise
We provide direct access to the individuals who design, test, and build our products every day. Contact us; we'll be glad to assist you.